A day in our life!
I'm used a camera that I was not familiar with so please excuse the *blurry* *flash glare* *general all around bad* photography.
0707
I peeked into Noël's room and found her wide awake. Just laying there very quietly :)
First thing I always do is check her stats...*heart rate and oxygen saturation*
Ummm...0/0 (oxygen sat on left is 0 - heart rate on right is 0) This is very very bad!!!
A little bagging (with oxygen and a few shots of Advair)....
...seems to do the trick!! And jacks up her heartrate!!!
Oh hey...
The Medi-gas guy is here!
WIth goodies...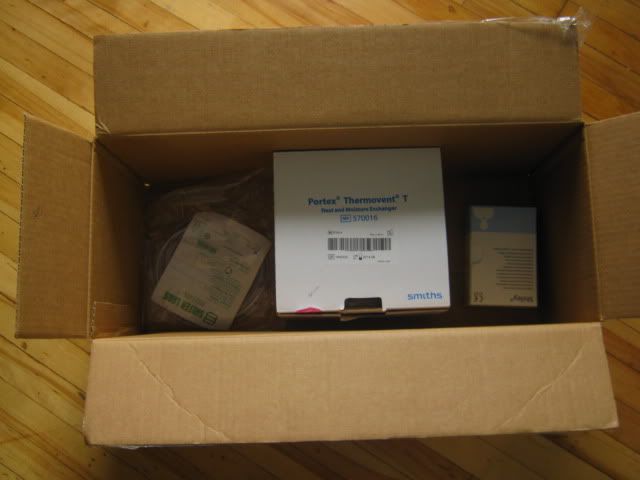 And most importantly....oxygen!
Out of bed and onto her change table.
Check some more vitals...
Too bad she has nothing nice to wear (hah)
Pink outfit! Plus Blues Clues mittens for the frosty hands!
A little bow for the hair.
1000 meds
Noël's beauty/medical treatments..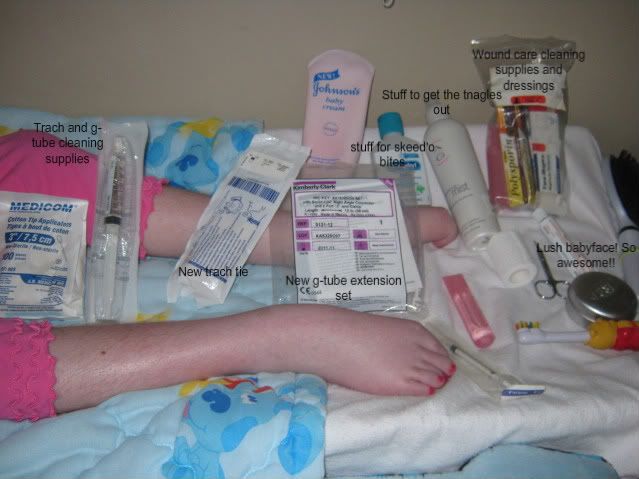 Brushing teeth
Baby'facing the baby face..
Now the hard stuff begins...
Wetting the 2x2's and cotton applicators to clean...
...the trach site.
WOW! This is super dangerous to let go of a trach that isn't secured..but it makes for an interesting photo! The old tie *all wrinkly* is at the bottom and the new tie is at the top.
New trach tie on and almost secure! She looks happy!
Cleaning the g-tube site..
Old g-tube extension set/new g-tube extension set
New tube all ready to go!
Just in time for...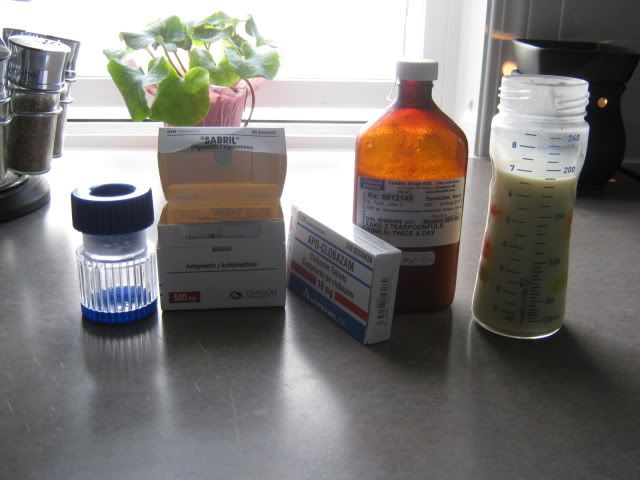 Clobazam
Losec
Everything crushed, measured, dissolved...
In it goes...
Start the feeding pump for a little breakfast...
BEEP! BEEP! BEEP!!!
Oops! Forgot to unlock the flow clamp! That's a beginners mistake!! Boo, Mommy!
At this point everyone hopes that Mom finds her way to the shower!
But first....clean/dirty laundry.
I don't have as much cool stuff as Noël!
It took me 75 shots to actually get myself in the photo! And sadly, that's as good as I get.
1100
Time to move Noël into the living room. But the puppy's are sitting in her chair! Shoo puppies!
Hanging out watching some
True Blood
Wiggles!
Cuervo looking on.
More medicine!
Meanwhile....Mommy is washing bottles (syringes, extension sets and med cups)
A quick check on the baby...she looked a little pale so I listened to her lungs.
Working on the nurses schedule for the next 2 weeks...seems simple but it's confusing.
The love of my life. Senoir Cuervo. My faithful little companion.
Not sure what the heck this show is but it seems to make her happy!
Yay! Finished the nursing schedule for when we are in Vegas!!!
Making supper....some kind of chicken with sauce.
Lets hope it tastes better than it looks!
Around 1430, look who came home! Sgt Sanduliak!
Everyone is happy.
Puppy love.
I change the babies pants...
Get the baby ready....
And walk over to Tims! <3 p="">
Arrive home and it's time for Noël to eat again.
ME and the Army guy.
I live with that other guy but it's Tim Horton that I really love! <3 p="">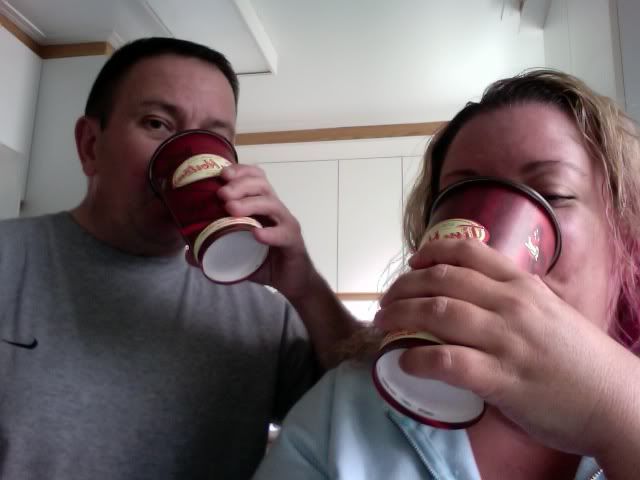 That's 550 mls of formula today! Yay, right on schedule.
Trying to read King's "The Dome"....
A quick check of Noey....things aren't going so good. A bit instilling and some suctioning and she's as good as new!!
1700 and time for medication again.
Supper (Chicken with some kind of juice, is what James called it) is cooking away so I take the dogs out for a walk!
The mosquitos were SO incredibly bad I didn't take any photos but here are a few of the doggies having a treat.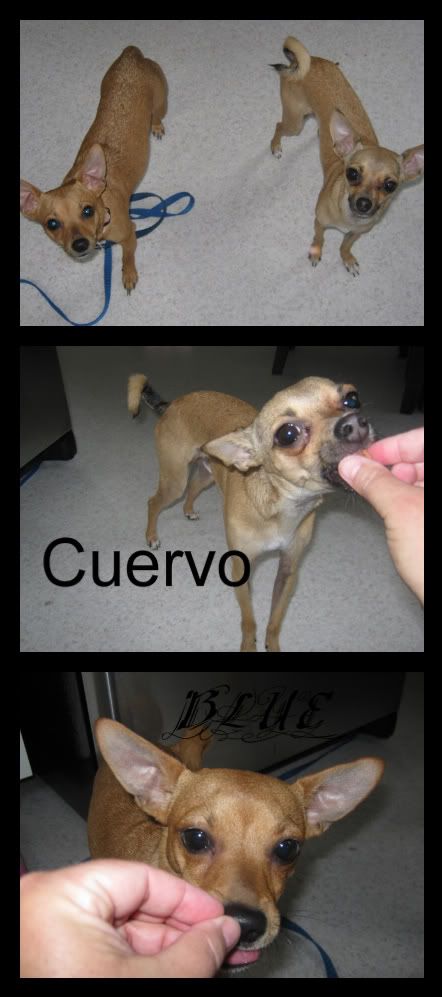 The best thing about living on a golf course is collecting the lost balls! :) This is my summer 2010 collection!
I read a chapter of "Super Fudge" and a couple of little books...
1800 and medication time again!
Dinner time for us!
Chicken with sauce (!!) rice and italian bread sticks. It seems painfully obvious that I am NOT a great cook!
Hello Blue! You can't eat at the table...lol
The doggie supper.
I started these sunflowers as seeds inside the house and they are finally flowering!
A pink flower for a pink girl!
Here they are as seedlings.
Here is our house! It's small but we LOVE our house.
Daddy getting the sleepy baby ready for bed!
Drawing and labeling nighttime medications for the night nurse.
A special mention to Old Bunny! Noël's favorite stuffed animal. She will see the end of days with her Old Bunny.
A few trinkets from Noël's room.
Well, it's 1934. Approx 12 hrs since I started this project and once again Noël is in bed. Exactly the same way we found her...happy and quiet.
One puppy in bed with her.
The other sleeping next to her bed. Always on the lookout!
Goodnight, sweet baby.
3>3>